The Lost Girls- A film screening
July 31, 2022 @ 3:00 pm

-

6:00 pm

$10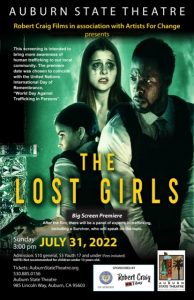 Sponsored by Soroptimist International of Auburn and local movie production company Robert Craig Films
Robert Craig Films in association with Artists For Change premieres their LIFETIME Channel movie, The Lost Girls, on the big screen July 31st at Auburn State Theatre. This screening is intended to bring more awareness of sex trafficking to our local community. The premiere date was chosen to coincide with the United Nations international Day of Remembrance, "World Day Against Trafficking in Persons."
The film follows a girl, deep in her rebellious teen phase, with a secret new boyfriend. Unknown to her, Mario is a reluctant agent of a vast sex trafficking network, forced to lure her into a horrifying world of rape and abuse.
This story depicts the horrors of sex trafficking in a deeply visceral way, serving as a call to action for many who consider their lives untouched by this world. Beyond that, however, The Lost Girls is also a story of family, of bravery, and of self-worth that cannot be dictated by the world around you.
The Lost Girls was directed by Hollywood veteran filmmaker Julia Verdin in an effort to help young girls and boys around the world to be more aware of the evils of the trafficking industry.
"Those of us who work in the film and TV industries carry an incredible responsibility," says Verdin. "Having met a number of 14- to 15-year-old survivors and seeing the level of trauma they struggle with, it is very important to me to do all that I can to educate teenagers and parents about techniques traffickers use to recruit and what the signs of someone being trafficked are. Education leads to prevention."
After the film, there will be a panel of experts in trafficking, including a saved trafficked girl, who will speak on this topic.
All ticket sale proceeds go to Agape International Missions (AIM), and a matching amount to benefit Stand Up Placer, sponsored by Robert Craig Films.